Insert your Cortisol result to get instant feedback.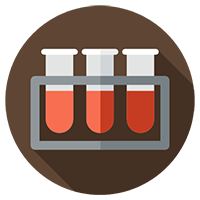 Upload your Lab results.
Track results over time.

What is it?
Cortisol is a steroid produced and secreted by the adrenal glands. Levels follow a pattern called "diurnal variation," peaking in the early morning then declining throughout the day and reaching the lowest level at night. Cortisol affects many different body systems, including: bone growth, blood pressure control, immune system function, metabolism of fats, carbohydrates, and protein, and nervous system function. Additionally, our brain releases a chemical called adrenocorticotropic hormone in response to threatening stimuli. This triggers your adrenal glands to release cortisol and adrenaline, giving you a burst of new energy and strength. Cortisol tests are done to check for increased or decreased cortisol production, which is an indication of how well the pituitary and adrenal glands are working.
Tests may also be ordered when women have irregular menstrual periods and increased facial hair or when children have delayed development and short stature.
The fight or flight response which triggers a release of cortisol is a natural and necessary tool for our survival. However, in our modern world threatening situations usually take the form of bills and deadlines not bears and tigers. Our bodies have a limiting response when a threat passes that brings cortisol levels back to baseline; however, when stressors are always present cortisol levels remain elevated. This long-term activation and subsequent overexposure to cortisol and other stress hormones can disrupt almost all of our body's processes. This puts us at risk for a number of serious health problems, including:
-Anxiety
-Depression
-Digestive problems
-Heart disease
-Weight gain
-Sleep problems
Normal Ranges in µg/dL?:
AM Reference range 6.7-22.6
PM Reference range 2.0-14.0
Optimal range
2.3 - 19.4 µg/dL
63.457 - 535.246 nmol/L

What are low values associated with?
A low level of cortisol may indicate Addison's disease, a disorder in which the adrenal glands do not produce sufficient steroid hormones. Symptoms include: weight loss, fatigue, low blood pressure, abdominal pain, and dark patches of skin. You may also have hypopituitarism, which occurs when cortisol production by the adrenal glands is low because the pituitary gland is not sending proper signals.
What are high values associated with?
A high level of cortisol may indicate Cushing syndrome, a disease that causes overproduction of stress hormones. Symptoms include: high blood pressure, high blood sugar, obesity, purple streaks on the abdomen, muscle wasting, and osteoporosis. A tumor in the adrenal gland or somewhere in the body involved in cortisol production can also cause higher-than-normal cortisol levels. Pregnancy or birth control pills are also known to cause a high blood cortisol level.
Biomarker category
Other biomarkers in this category