Insert your Eosinophils (Absolute) result to get instant feedback.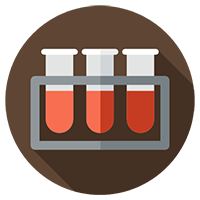 Upload your Lab results.
Track results over time.

What is it?
White blood cells (WBC) are a vital part of our immune system. Eosinophils are one of five types of WBCs found in the human body; all are produced by the bone marrow. Eosinophils account for less than 7% of all circulating white blood cells and have two distinct functions: they destroy invading germs and create an inflammatory response, particularly if an allergy is involved. A healthcare professional may recommend an eosinophil count if you've already had a blood differential test and the results were abnormal. Specifically, an eosinophil count may be useful in the diagnoses of the following:
-An allergic reaction
-Infection by a parasite
-Cushing's disease (a disorder caused by too much of the steroid hormone cortisol).
Optimal range
0.015 - 0.5 cells/uL
0.015 - 0.5 cells/uL

What are low values associated with?
A low number of eosinophils do not usually cause problems as other parts of the immune system can compensate adequately. It may be caused by:
-Cushing's disease
-Bloodstream infection (sepsis)
-Treatment with corticosteroids
-Alcohol intoxication
What are high values associated with?
Eosinophilia (an unusually high number of eosinophils in the blood) is linked to a variety of disorders, including:
-Allergic disease
-Parasitic infection
-Asthma
-Autoimmune disease
-Cancers of the blood, such as Leukemia and Hodgkin lymphoma
There are some medications known to cause an increase in eosinophil count, including:
-Some antibiotics
-Tranquilizers
-Appetite suppressants
-Laxatives that contain psyllium
-Interferon, a drug used to treat infection
Biomarker category
Other biomarkers in this category