Insert your Basophils (Absolute) result to get instant feedback.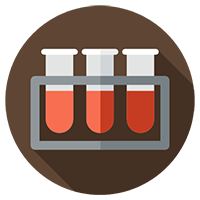 Upload your Lab results.
Track results over time.

What is it?
A basophil is a type of cell belonging to the white blood cell family. While only comprising a small percentage of the total white blood cells circulating in the blood (0.4%-1%), they are the largest type of mature white blood cell. They are created in response to inflammation and infection like all white blood cells; however, they are unique in their ability for phagocytosis—the process of immune cells "eating" other cells such as bacteria. Basophils also produce histamine and serotonin, which can induce inflammation in response to an allergen. Finally, basophils also excrete heparin that is used to prevent blood from clotting too quickly. The test used to measure basophil concentration in the blood is called a "blood differential test," and it measures all five types of white blood cells found in our bodies. The analysis of a blood differential test will also point out abnormal or immature cells.
Optimal range
0 - 0.1 cells/uL
0 - 0.1 cells/uL

What are low values associated with?
Low levels of basophils in the blood are common in a healthy person. Although, extremely low levels usually indicate an overwhelming shock in the body that is eliminating white blood cells faster than our bodies can produce them (due to severe infection or allergies) or the presence of certain drugs like cancer chemotherapy and corticosteroids. Cancer itself is also known to cause the level of basophils to be too low. In women, pregnancy can sometimes result in an unusually low basophil count.
What are high values associated with?
An elevated level of basophils in the blood happens in response to infection or inflammation. In the case of infection, a virus is typically the cause. Inflammatory diseases (such as: inflammatory bowel disease & asthma) are known to increase basophil count, and removal of the spleen has the same result. Variations in certain hormones (like thyroid) can also stimulate basophil production. For women, an increase in estrogen is known to elevate basophil concentration. More seriously, an unusually high level of basophils in the blood may indicate cancers of the bone or bone marrow where white blood cells are made like Hodgkin's Lymphoma and Chronic Myelogenous Leukemia.
Biomarker category
Other biomarkers in this category