Insert your HDL result to get instant feedback.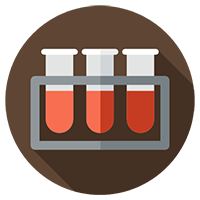 Upload your Lab results.
Track results over time.

What is it?
High-density lipoprotein (HDL) is a type of cholesterol and is typically assessed in a blood test called a lipid profile, which is used to monitor lipid levels and determine an individual's risk of developing heart disease. Frequently referred to as "good" cholesterol, HDL removes excess cholesterol from tissues and carries it to the liver for disposal. It is recommended that a lipid profile be done every four to six years in all adults with no risk factors for heart disease. A test for high-density lipoprotein cholesterol may be ordered more frequently for those who have one or more risk factors for heart disease, including:
-Cigarette smoking
-Being overweight or obese
-Unhealthy diet
-Being physically inactive
-Age (men 45 years or older & women 55 years or older)
-Hypertension (high blood pressure)
-Family history of heart disease
-Diabetes
High-density lipoprotein cholesterol levels may also be monitored to evaluate the success of lifestyle changes such as diet and exercise or cessation of cigarette smoking. It is worth noting that in women, pregnancy may cause changes in HDL.
Normal Ranges:
| | |
| --- | --- |
| HDL level in mg/dL | Risk of heart disease (independent of other risk factors) |
| Less than 40 (men) or less than (50) women | Above average |
| 40-50 (men) or 50-59 (women) | Average |
| 60 or higher | Less than average |
Optimal range
60 - 180 mg/dL
1.554 - 4.662 mmol/L

What are low values associated with?
HDL levels are typically lower in people who have a metabolic syndrome—a cluster of conditions that include obesity, increased blood pressure, and high blood sugar levels. Low levels of HDL are undesirable in that a higher level would offer protection against heart attack and stroke. There are some interventions known to increase HDL, including:
-Exercise
-Cessation of smoking
-Improving the diet (avoiding trans fats)
There are some drugs that can artificially raise HDL levels, but this is not associated with decreased risk of heart attacks or strokes.
What are high values associated with?
When it comes to HDL cholesterol—"good" cholesterol—a higher number means a lower risk. As mentioned, HDL protects against heart disease by removing "bad" cholesterol from the blood and keeping it from building up in the arteries.
Biomarker category
Other biomarkers in this category